Business Support
Addressing the concerns of SME management Small and medium-sized enterprises play a critical role in Japan's economic development, accounting for 99.7% of Japanese companies and around 70% of domestic jobs. TCCI works tirelessly to strengthen SME management and to support the drive for continued growth, providing numerous membership services.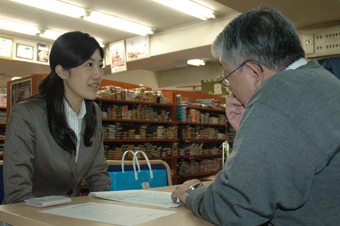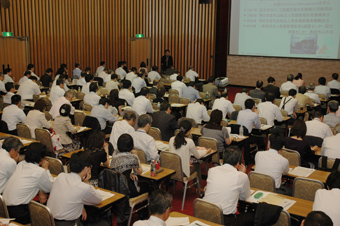 Business Management Consultation
Start up
We provide guidance to companies in forms such as backing SME fund procurement, introducing experts in various fields, and supporting growth-oriented entrepreneurs. We have provided more than 850 consultations in the fiscal year 2010, and the number is increasing year by year.
Management in general
We offer a broad range of services through the mutual utilization of the diverse capabilities and characteristics of our members. More than 150 TCCI staff members work closely as management consultants with companies or individuals for the enhancement or revitalization of their businesses. We also offer access to professional consultation provided by lawyers, tax accountants, and other affiliated experts. We provided more than 110,000 consultations in total in the fiscal year 2010.
Business Information
We provide useful information on business and management to our members. The information can be obtained via TCCI staff, TCCI newspaper, and the internet (website and mail magazine). Detailed information can be found on our website in Japanese.
(URL: http://www.tokyo-cci.or.jp)
CCI-IBO is managed by the Japan Chamber of Commerce and Industry (JCCI) and the Tokyo Chamber of Commerce and Industry (TCCI), and it aims at matching inquiries to Japanese companies from overseas institutions and companies with member companies of the Chamber of Commerce and Industry throughout Japan that are contemplating doing business with overseas companies.
CCI-IBO helps companies overseas find partners for international business, and supports their PR activities for Japanese companies.
Human Resource Development
Our programs help members enhance employee skills while creating an environment in which all employees can boost their abilities and take pride in their work. We offer seminars and training programs that attract thousands of participants.
We also organize certificate examinations, helping individuals to gain knowledge related to management and business, such as bookkeeping and business law. The total number of examinees was more than 300,000 in the fiscal year 2010.
Improvement of Employee Welfare
We make a wide range of services available based on our diverse membership, ensuring that SMEs can offer welfare programs on par with those of large companies.
We offer mutual aid insurance plans, including life, medical, and product liability.
Certification for International Business
We issue certificates of origin and certificates of invoice, and we verify signatures. We issued more than 384,500 certificates related to trade in the fiscal year 2010.